In-Room Dining at Fairmont Le Manoir Richelieu
Relax and enjoy our delicious cuisine in the comfort of your guestroom. Our in-room dining menu features a wide variety of delicious dishes as well as a complete bar service.
LOCATION
181, rue Richelieu
La Malbaie, Quebec G5A 1X7
HOURS
Daily | 7:00 a.m. - 10:00 p.m.
Breakfast

Petit Continental

Maple Yogurt, Fresh Fruits, Pastries, Toasts, Creton, Juice, Coffee

21

Le Continental

Scrambled Eggs, Toasts, Choice Of 2 Meats (Bacon, Ham Or Sausages), Beans, Potatoes, Juice, Coffee

25

Garnished Omelettes

Vegetables, Ham, Swiss Cheese, Potatoes, Seasonal Salad, Juice, Coffee

21

Maple Butter Crepes

Maple Butter, Fruits, Chantilly, Juice, Coffee

21

Eggs Benedict

Ham, Hollandaise Sauce, Potatoes, Juice, Coffee (One Or Two Eggs)

22

Pastry Selection

Raisin Brioche, Croissant And Chocolat Pastry

16

Housemade Smoked Salmon Bagel

Housemade Smoked Salmon, Cream Cheese, Roasted Bagel, Garnish, Juice, Coffee

21
Snacks

Club Sandwich

Chicken, Tomato, Lettuce,Bacon, Dried Tomato Mayonnaise

23

Chicken Caesar Salad

Chicken Breast, Housemade Dressing, Croutons, Parmesan Cheese, Bacon And Capers

22

Classic Nachos

Black Olives, Tomatoes, Red Onions And Mozzarella Served With Salsa And Sour Cream

18

Pique-Assiette

Onion Rings, Tempura Shrimps, Chicken Wings, Cheese Sticks, Fried Potato Wedges Served With Sour Cream And Bbq Sauce

23

Pizza

Margherita, 10"

Tomato, Mozzarella Fior Di Latte, Pesto, Fresh Basil

22

Proscitto, 10"

Tomato, Shredded Mozzarella, Prosciutto, Arugula, Parmesan Shavings, Balsamic Cream

24

Québécoise, 10"

Bacon, Smoked Meat, Pepperoni, Mozzarella, Cheddar, Maple Syrup

26

Desserts

Deo Gratias Sheep Milk Cheesecake

12

Gluten-Free Chocolate Cake

10

Maple And Pecan Praline Choux

16
Apptizers

Housemade Smoked Salmon

Housemade Smoked Salmon, Watermelon Salad And Cucumber, Naan Bread And Capers Sour Cream

21

Cream Of Onion, Beer, & Cheddar Cheese

Beer From The Charlevoix Microbrewery, Charlevoix Old Cheddar Cheese, Pulled Beef, Hazelnut

18

Foie Gras

Foie Gras With Rhubarb Liqueur From The Menaud Distillery, Rhubarb Confit And Toasted Brioche

29

Caprese Salad

Burrata And Ancestral Tomatoes From The Farm Of The 4 Times, Basil Pesto, Pine Nuts

35

Dinner

Pork Osso Bucco

Served On A Bed Of Buttered Spaghetti With Red Wine Jus

29

Pulled Pork Poutine

Fries, Gravy And Cheese Curds From La Fromagerie Saint-Fidèle

24

Sole Filet

Stuffed With Salmon And Lobster, Fingerlings Potatoes With Herbes, Vegetables And Dill Cream Sauce

29

Signature Burger

La Fromagerie Maurice Dufour, Tomato, Lettuce, Chipotle Mayonnaise, Homemade French Fries

28

Lentil Dahl

Lentils With Curry And Coconut Milk, Coriander And Naan Bread

24
Charlevoix Microbrewery

International Beer

Non-Alcoholic Beer

Bud Weiser Cuvee Prohibition

Liquor

Rum

Bacardi Superior, Chic Choc Rhum épicé QC, Zacapa Centenario 23yr

17

Vodka

Finlandia, GreyGoose, Menaud Charlevoix

18

Digestive

Limoncello, Belle de brillet, Amaretto Avril Oc, Bailey's, Grand Marnier

15

Porto Fado

Porto Graham's 10 yr, Hennessy VS, Remy Martin VSOP, Remy Martin XO

15

Whiskey/Scotch

Canadian Club, Jameson, Maker's Mark Glenfiddich 12yr

15

Bowmore 12yr

17

Talisker 10yr AA

17

Glenmorangie Nectar d'Or

35

Gin & Tonic

Gin Tonic Premium

Bombay Saphire 44° - Tonic Schweppes

16

Gin Tonic Deluxe

Hendricks 41.4° - Tonic Fever Tree

18

Gin Tonic Local

Menaud 42.1° -Tonic Fever Tree

20

Red Wines

France

Côte du Rhône, Saint Nabor 2018

Rośe

Italy

Vénétie, Rosa dei Masi, Refosco 2020

Red Wine

France

Côtes-du-Rhône, Saint-Nabor, 2019

Italy

Vénétie, Geografico, Pinot Grigio 2020

Sparkling

Italy

Vénétie, Geografico, Pinot Grigio 2020

France

Champagne Veuve Clicquot

Non-Alcoholic Beverages
Please note that hours of operations are subject to change.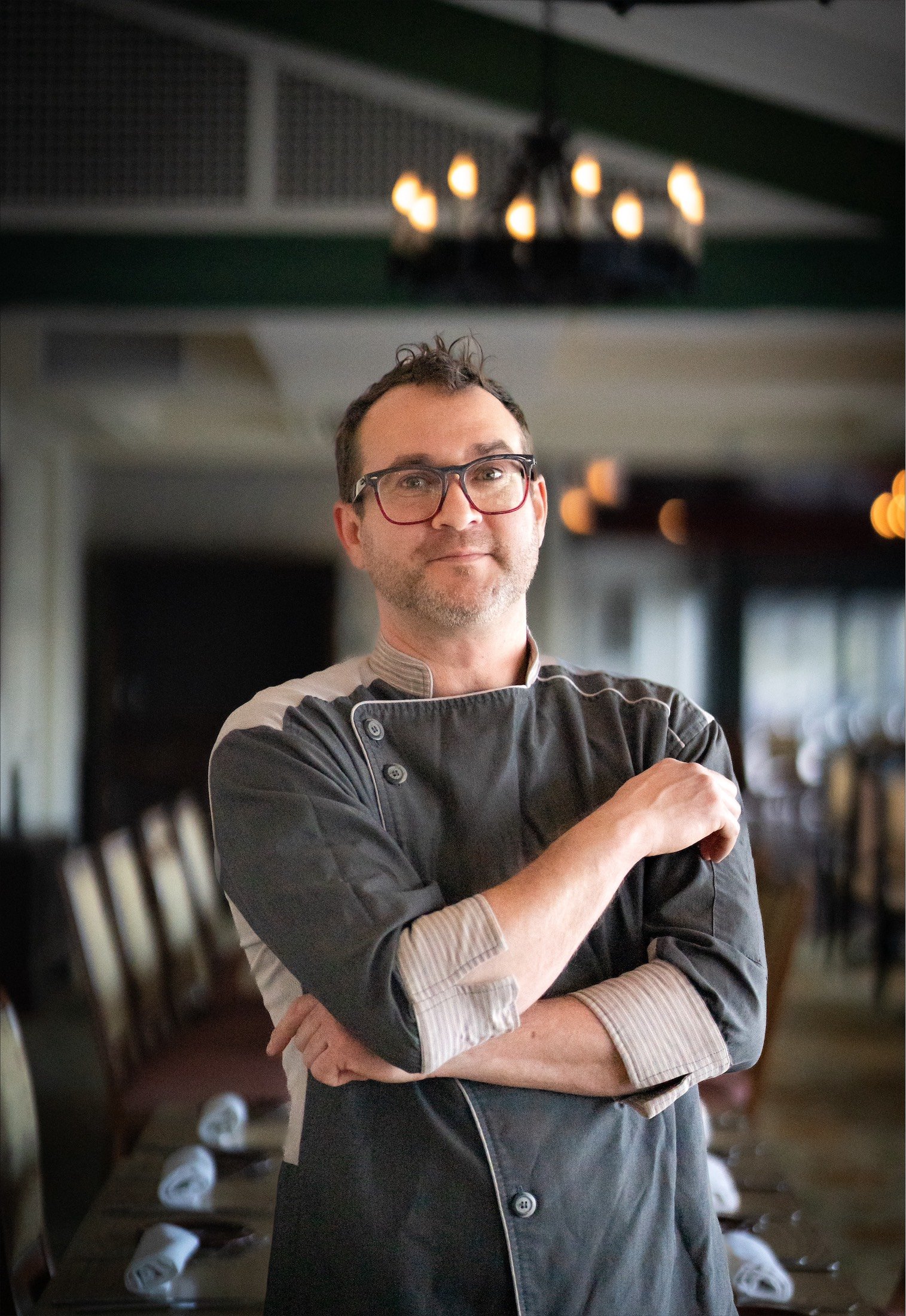 Simon Fortin is an experienced, talented and creative chef, who is committed to democratizing good food and highlighting the Charlevoix local products.
Exclusive Offers and Updates from Fairmont Le Manoir Richelieu